What is Cookieless Tracking? How does Cookieless Tracking work? Tracking without cookies – how does that work? We also asked ourselves these questions and tested three alternatives to Google Analytics for three months. Namely Matomo, Nilly and Plausible.
You know the countless cookie consent banners (see picture above) that have to be clicked away on most websites? These rather annoying banners inform you, among other things, that in addition to the technically necessary cookies, some services also collect further information about you and your user behaviour in the background and sometimes pass this on to third parties. But it is also possible without cookies, with so-called cookieless tracking.
What is cookieless tracking?
With cookieless tracking, you do without conventional cookies and instead rely on alternatives that use other methods to collect information. Possible alternative tracking methods are:
Device Fingerprinting:
This method uses a variety of device information to create a profile for the user. This may include screen resolution, fonts installed, browser language, device type and operating system version. This information can be used to track the user's behaviour on the website and offer personalised recommendations and advertising. This video from Seon illustrates pretty well how this tracking method works:
Server-side tracking:
In this approach, tracking is done on the server side without using cookies or other tracking technologies on the user's device. This uses the user's IP address or a unique identifier to identify the user. When this performs actions or comes back to the website, the server can use this ID to associate it with a specific session.
Local Storage:
Another alternative method for cookieless tracking is the use of local storage. This stores data on the user's device without using cookies. However, this method can be blocked by some browsers.
URL parameter tracking:
This involves embedding tracking information in the URLs of the pages visited. This can be problematic, however, as some browsers or search engines anonymise or hide the URLs for data protection reasons.
Does it need a cookie banner with cookieless tracking?
No, because a large number of different cookies are often used on a website. Some of them are essential to guarantee the functions of a website. For example, cookies can be set when you move something into the shopping basket, but even fonts used via Google Fonts use small crumbs. Therefore, the cookie banner cannot be bypassed simply because you use cookieless tracking.
You might be asking yourself why it makes sense to switch to cookieless tracking if you still don't get rid of the annoying banner. From our point of view, the answer is simple: Why not? When it comes to tracking, many of our customers want to understand what is happening on the website. They wonder if certain actions are being performed or goals are being met. So, in an estimated 90% of cases, the information and performance of these services is perfectly sufficient and also ensures more privacy for the clients. For this reason, we thought we would test some of the cookieless tracking alternatives to Google Analytics 4.
Alternatives to Google Analytics 4
The abundance of analytics and tracking tools is huge. There are also many solutions for cookieless services. We have chosen three of the most popular alternatives and will explain shortly why we have chosen these three.
Matomo Matomo is probably one of the most comprehensive alternatives. From heatmaps, A/B testing, e-commerce tracking to individual reporting, it has it all. If you want a similar scope as Google Analytics 4, Matomo is a good choice. Matomo is also an open source software, which of course suits us perfectly. (see therefore our OS-Contributions)

Plausible Plausible Analytics is quite the opposite of Matomo, designed for brevity. It is therefore not meant to be a clone of Google Analytics 4, but offers a lot of flexibility depending on information needs. Also, Plausible's script is 45 times smaller than Google Analytics 4, so it's a goldmine from an SEO perspective ;).

Nilly Another alternative is Nilly, which was founded in Switzerland and hosts its data in Switzerland. We preferred this cookieless tracking service, which also focuses on the essentials, to the other Swiss player Fusedesk because it can offer more flexible pricing models for our customers.
But what exactly are the differences and do the various tracking methods have the same values for different key figures?
A comparison of the different services
For our test, we integrated all tracking services on our website and compared the various key figures. Here is an excerpt of the website accesses in the period from 23 May 2023 to 20 June 2023 (from top left: 1. Google Analytics, 2. Plausible, 3. Matomo, 4. Nilly). Interestingly, for both Plausible and Matomo, the peak on 13 June, which occurred for Google Analytics, is not visible. With Nilly, this peak is visible. However, the number of users over the entire month is the same for most services. Only Nilly is clearly above average here.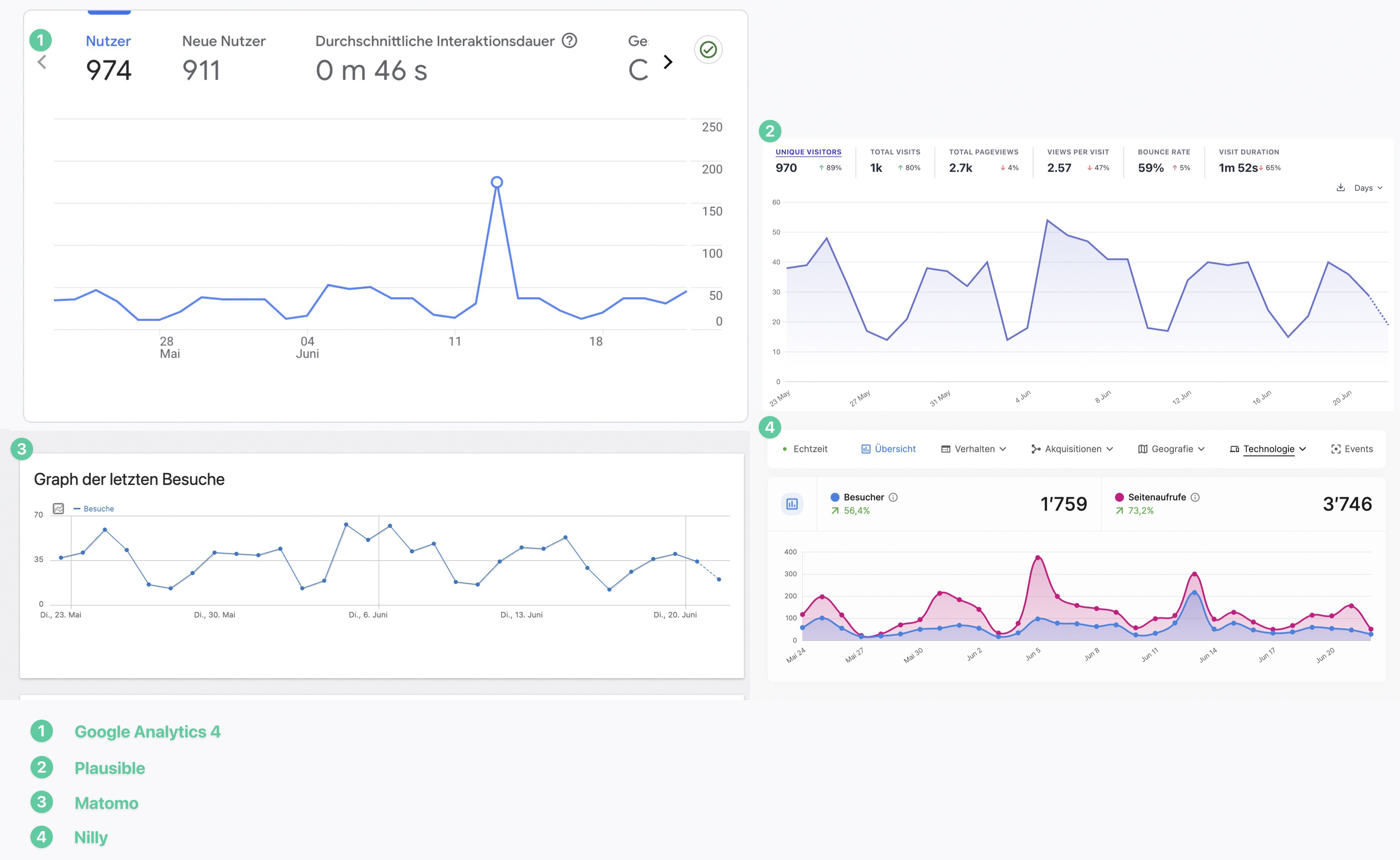 If we look at other key figures, such as page views, we see that the numbers do not always quite match, but the trends are often recognisable. In the example below, you can see that our team page is quite popular ;). This picture actually runs through most of the tables, graphics and key figures.

In conclusion, it can be said that cookieless tracking services definitely have their raison d'être. Especially when it comes to simply understanding which content on the page performs well and which not so well, this trend data already provides some insights. But what if you want to know more precisely or if your tracking requirements are a bit broader?
Individualisation & interfaces
For some use cases, implementing an analytics solution is not enough. Many users want individualised reports for individual decision-makers, some of whom want to track very specific things. For this, specific events or occurrences have to be created on the website, which usually go beyond the standard reporting of analytics solutions. Still others want to harmonise the goals they pursue on the website with the advertising measures they pursue via Google Ads or Microsoft Ads. This requires integrative systems and interfaces. In Google Analytics 4, this can be done directly via the Google Tag Manager or via functions in Google Ads.
However, if one decides to use Matomo, for example, one is dependent on further services such as catchr or Supermetrics, which enable a connection for external services and interfaces such as Lookerstudio. For these services, further costs are incurred, which vary monthly depending on use. At Plausible there are further scripts for specific events, which can be set up according to need and use case.
So if one decides to move away from Google Analytics 4, one should give some thought to one's tracking needs and check whether one needs interfaces to Google Ads and other services.
Our recommendation
As a clear and cost-effective solution that offers most website operators a good basis for decision-making, Plausible convinced us the most in this test. With Nilly, the constant logging in through the Magic Link was somewhat cumbersome and it offers significantly less flexibility in tracking. For more comprehensive tracking, we can recommend Matomo with a clear conscience. While it is a bit more confusing due to the many options, it really does offer a wide range of tracking methods and covers pretty much every use case. If a client wants to try one of these methods, they are welcome to contact us and we will help them set it up and advise them.