The website analysis tool Google Analytics is very helpful, because it collects data of all kind about website usage and makes it available in a variety of reports. But do you sometimes lose the overview because of all these statistics? Here comes the solution: the Renuo dashboard.
Google Analytics is a service program that can be used to analyse user data from websites. The tracking tool evaluates, for example, the loading time of the website, the devices used to call up the website, the origin of the visitors or the bounce rate. The collected data can be used for further development of the website, for performance monitoring of advertising campaigns or for search engine optimisation. Like other web analysis tools, Google Analytics is controversial from a data protection perspective.1Nevertheless, it is used by around 56% of all websites using an analytics tool worldwide. The main reasons are that Google Analytics is free and easy to use and can aggregate data from various sources. 
The large number of reports and data that Google Analytics makes available is pleasing, but leads many users to being overwhelmed. For this reason, we decided to create our own dashboard, which shows important and interesting statistics about website usage at a glance.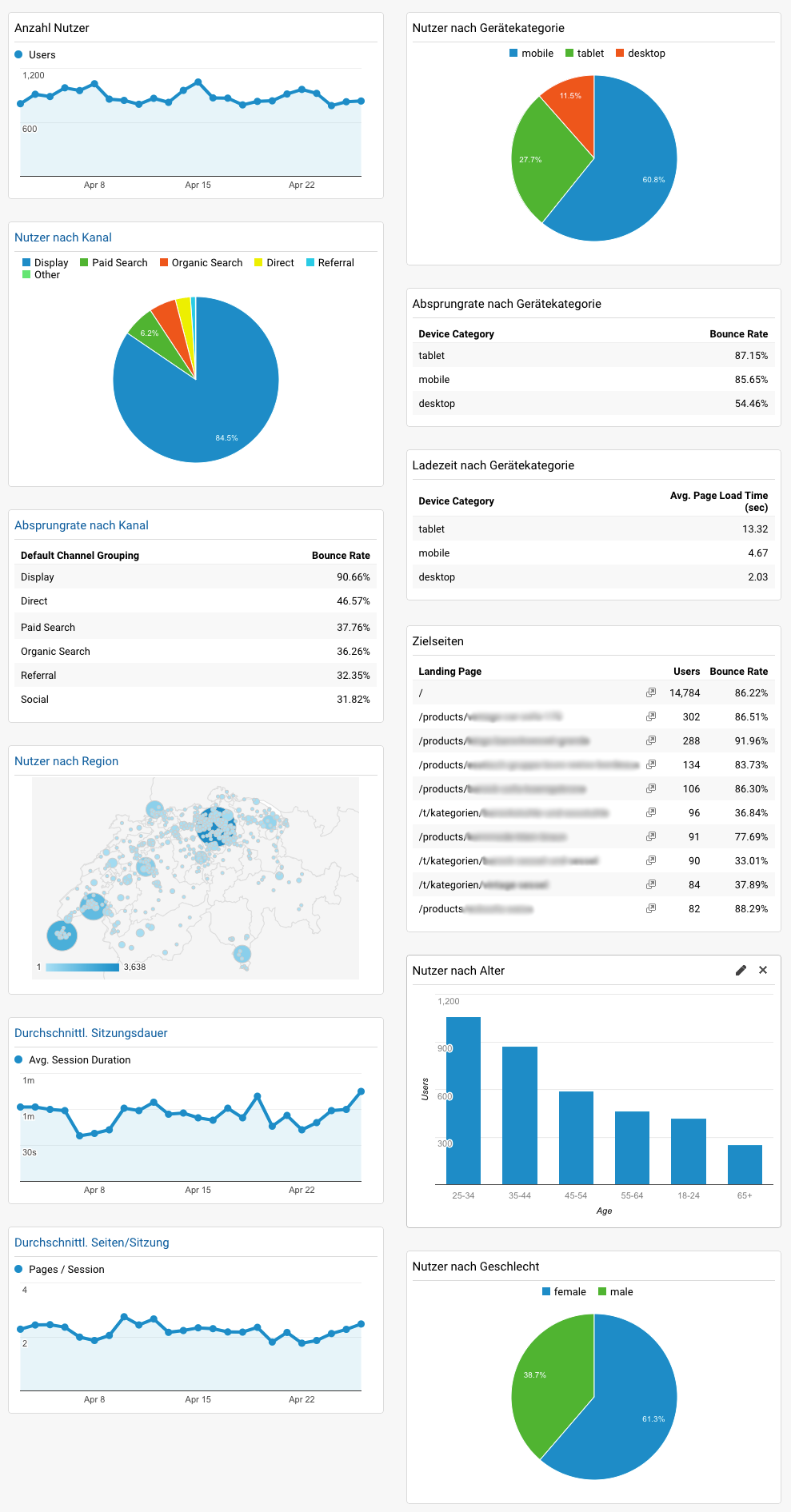 Our dashboard gives you information about the number of users, the devices used or the length of stay within a certain period. The overview can be exported as a pdf file with a single click, or you can have the dashboard sent to you or someone else regularly and automatically via e-mail. 
The Renuo Dashboard can be found in the Solutions Gallery by Google Analytics and from there downloaded for free into your personal Analytics account. Via this link you can load the dashboard directly into your account. By using it neither we nor third parties gain access or insights into your statistics. 
We now wish you many interesting insights into the collected data, and if you like our dashboard, we are happy about a positive evaluation.
1We recommend the use of Google Analytics that complies with data protection regulations and the German Data Protection Ordinance (DSGVO). This article provides a clear overview of the adjustments that need to be made in this regard:https://www.datenschutzbeauftragter-info.de/fachbeitraege/google-analytics-datenschutzkonform-einsetzen/.
Last updated on 14. November 2022.