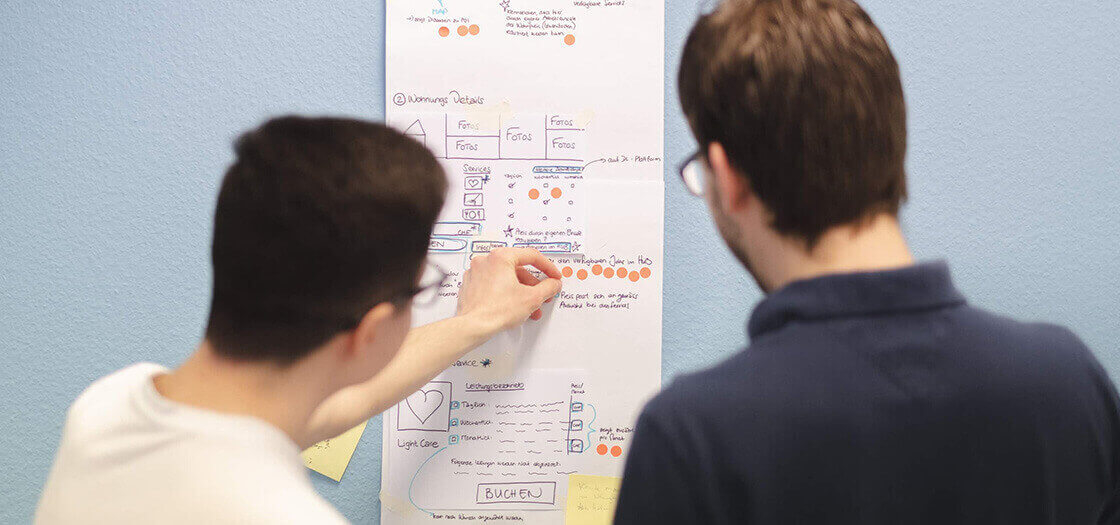 The five phases of the design sprint
1st understand
First of all, the business idea is analysed both technically and economically. Then the target groups, the performance bound, the success criteria and the competitors are defined.
2nd diverge
In a second phase, various solution approaches for the application are collected and evaluated.
3rd merge
The best solutions are combined and it is determined how the prototype should look and function.
4th prototype
The agreed prototype is implemented. Code is not developed, but only clickable graphics are used. This «dummy» is now presented to potential customers so that they can check the usability and other aspects of the idea.
5th test
The user tests give a well-founded first impression of the application: How do end customers react to the use? Do they like the solution? In this last phase, the first important improvements and adjustments to the product can be made.
Collect learnings before the actual development
The effort for the development of a web application is high, so it is all the more important to test a vision for its feasibility, efficiency, economy and user-friendliness. The design sprint is an approach that has been used by large companies for a long time. A prototype of the vision is created without programming and presented to potential customers for testing and feedback. Numerous learnings are collected before the actual development of the product has begun.