It's Valentine's Day! Time to demonstrate our love – our love for our adoring clientele and our love for exciting innovations like artificial intelligence (AI). The combination of these results in a Valentine's Day card written by ChatGPT and designed by Midjourney. 😄 Such tools don't just offer room for fun and games, though. Behind them lie complex calculations that, used correctly, can lead to astonishing results. Fortunately, we have been working with AI for many years and know how it can be used and what needs to be considered. A field report:
What's behind our Valentine's Day card
Our Valentine's card this year contains an image created on Midjourney and a text created using ChatGPT. A gimmick! Because not only do we love our clientele 💚 we also love experimenting with new tools. We have been dealing with AI-based image generators like Midjourney and DALL-E 2 since summer 2022. Up to now, the images created with these tools were mainly used internally, as the early beta versions did not only produce ethically correct results. In the meantime, the tools have been greatly improved. Although such technologies are constantly being developed and are basically usable by everyone, they do not automatically lead to optimal results, as the creation of our Valentine's Day card shows: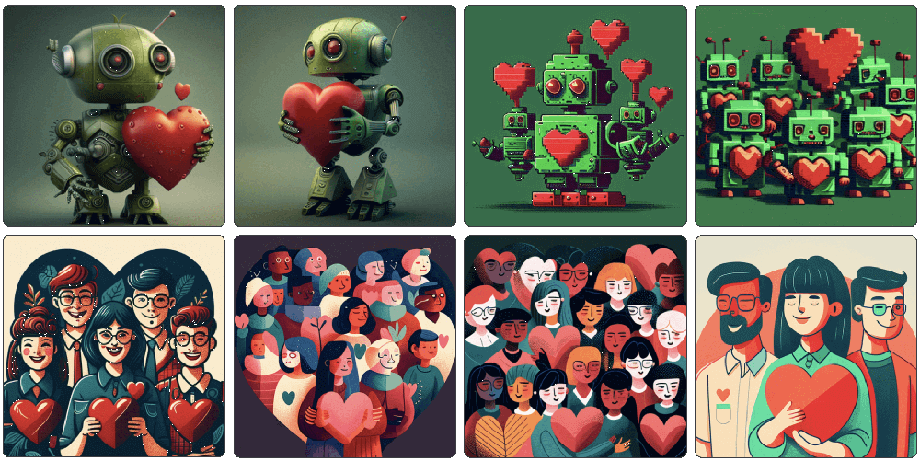 The final prompt to get our card image was something like «an illustration group of friendly smiling robots holding hearts». By the way, we won first place with our prompt at the Swico IG Web event «AI in image processing» a fortnight ago.
For the text we used ChatGPT: OpenAI's chatbot has been trained with everything that is publicly available (especially texts and open source code). The chat can interpret texts and code in an incomparable way and write it itself. It is reminiscent of a savvy butler who does the work for you (we reported on it in our December newsletter). Since its premiere last year, we have already been able to use it for real use cases, for example by writing solutions for code benchmarks or methods in Ruby that calculate the midnight formula. For our Valentine's Day card, his brief was as follows: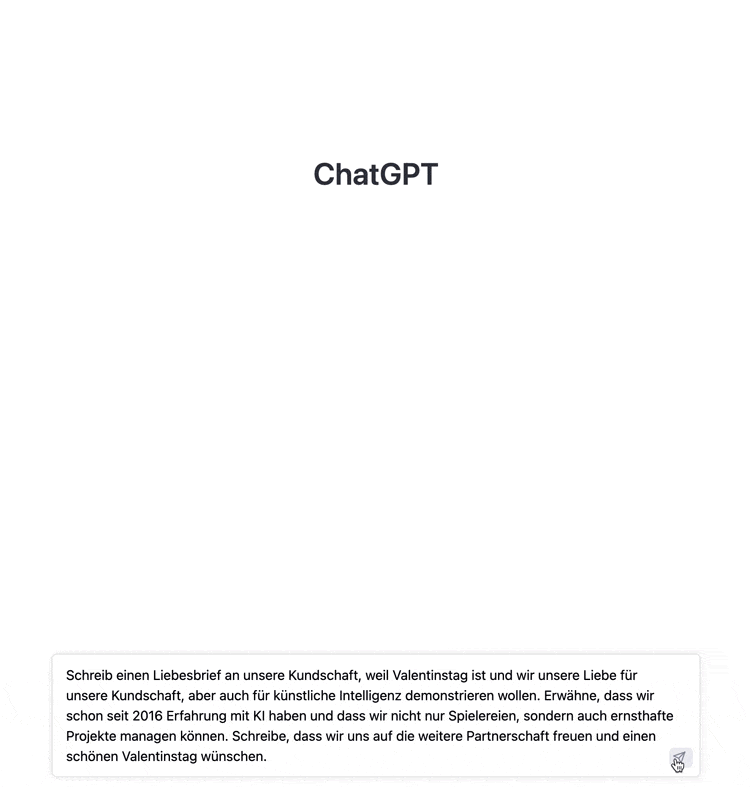 Sometimes it takes a few steps to find the right text. Whether this effort is worth it for such a short text remains to be decided. 😄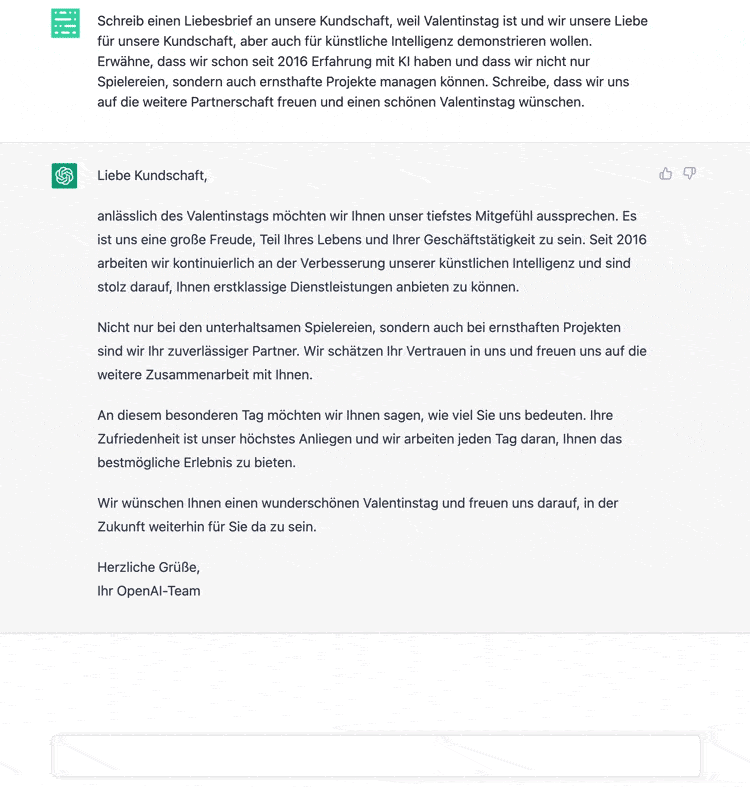 The final result: 

We always use AI with great care. On the one hand, we set high standards for the visual and content quality of the results achieved through AI. On the other hand, we also want to be sure that the content used to train the AI (images, text, code) comes from justifiable sources. We gained this awareness about AI through our 8 years of project experience with AI, our panel discussion on AI in 2020 and our qualified team:
How we engage with AI
Our first project with artificial intelligence was for Tamedia in 2016. It was a model that calculates the probability of obtaining a green card – a permanent residence permit for the US. With the help of a questionnaire, information about the user was collected, and the application then calculated the probability of a positive green card decision for the person in question based on thousands of past decisions. The project was a great success and led to a great response.
Next projects with artificial intelligence soon followed, such as the Progressive Web App (PWA) Kinderwelt Graubünden for Graubünden Ferien. The PWA for Graubünden Ferien can recognise photographed pages from a physical kids book with the help of artificial intelligence. The application won bronze in the technology category of the Best of Swiss Web Award 2020.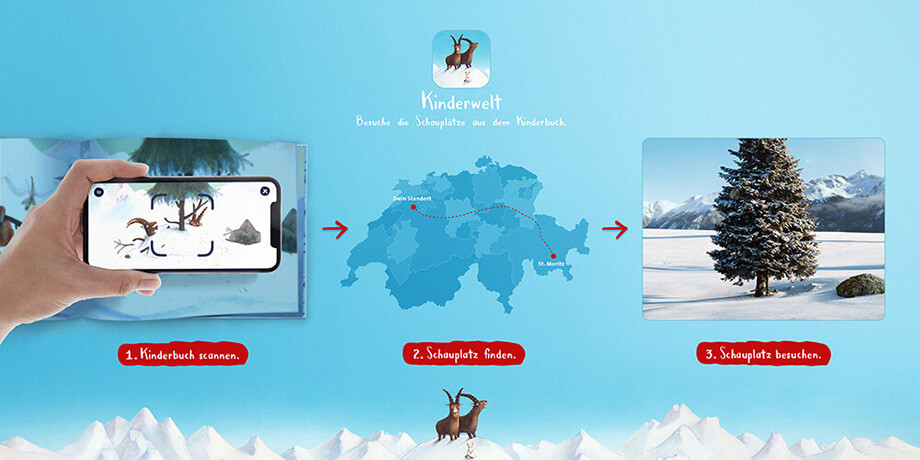 How we influence the discourse
Simply implementing external AI projects was no longer enough for us in 2020. We decided to organise a large event on the topic of artificial intelligence, at which we offered an in-depth introduction to the subject and at the same time sought dialogue with our community. In a moderated panel discussion, Dr Marc Holitscher, National Technology Officer and member of the Executive Board of Microsoft Switzerland, Sophie Hundertmark, founder of ai-zurich (Community and Conference for AI for Business) and Swiss chatbot expert, and Dr Markus Kneer, researcher at the Chair of Ethics at the University of Zurich and Research Fellow at the Digital Society Initiative, jointly discussed the risks and chances of artificial intelligence in our everyday lives. The event was a great success because, especially with regard to ethics, we were able to pick up on the discourse that is still current today and provide visitors with a lasting insight into the topic.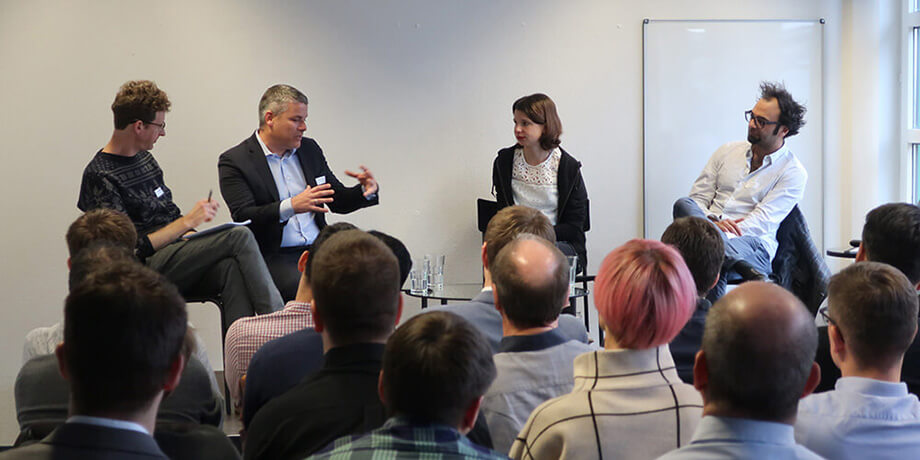 How we keep our finger on the pulse
Our team is constantly educating itself on the topic of artificial intelligence or organising corresponding Powerdays. Two of our employees, Pascal and Gianlorenzo, have a Master's degree in artificial intelligence. In addition to the necessary technical know-how, which the rest of the team has also acquired by now, they bring the enormously relevant reflective level to our work. When dealing with artificial intelligence, the careful selection and processing of the underlying data is a fundamental starting point for a high and ethically defensible quality of the results.
Our conclusion
We love new technologies, we love to educate ourselves and we love to deliver the highest quality to our clients with the right tool. We love what we do and we love to do it for you. 🥰 Happy Valentines Day!